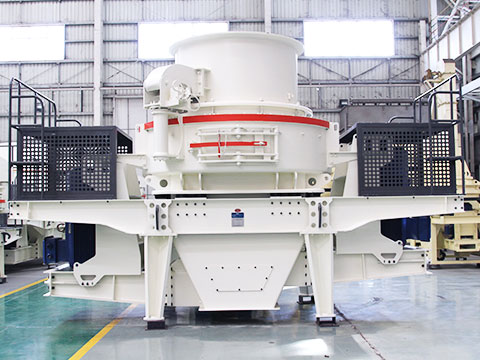 Since 2001, our company has been making sand makers or sand making machines in China and has made much progress in the domestic market with a large occupation rate. The excellent performance of the sand maker helps us win customers' trust and praise all over the world.
Supply Ability:15 Sets per Month Production capacity: 12-360t/h Port: Qingdao,Tianjin, Shanghai or others Feature:Structure is simple to install, easy maintenance, low running costs
Get Quotes
Introduction
Working principle of sand making machine
1. Materials enter the crusher via the feed hopper and are divided to two parts. Some enter the high speed spinning impellor through the distributor and the accelerated speed can be a hundred times of the gravitational acceleration.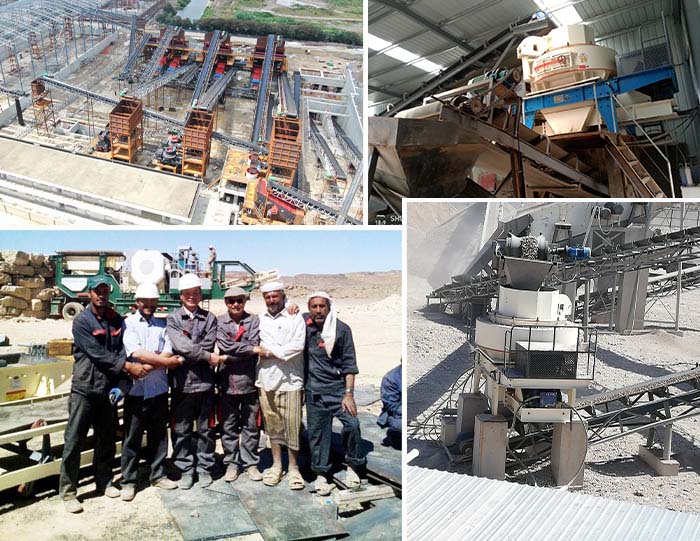 2. Then the materials are thrown out from three runners at the speed of 60-70m/s and impact the falling materials from the distributor.
3. Then they come to the lining of the inner cavity and get bounced by the material liner to the upper end of the whirling motion cavity.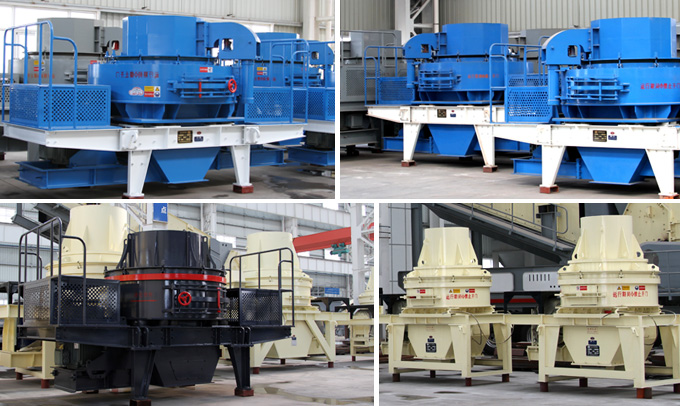 4. Then they change the direction to move down. The materials cast from the impellor form a continuous material curtain. In this case, the materials can experience two or more times of impacting and grinding processes. The crushed materials are discharged from the bottom hole of the sand making machine.
5. Forming a closed circuit with the circulation screening system, the vibrating feeder can handle the materials as fine as 20 meshes within three circulations.
6. In the whole crushing process, the materials hit each other without touching the metal components directly. They meet the material lining in order to reduce the pollution and prolong the service life of the sand making machine. The advanced air flow in the whirling motion cavity can effectively reduce the dust pollution.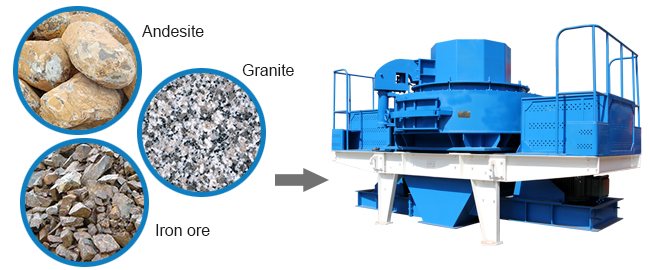 Sand making plant
The Chinese sand making plant or sand making machinery plays an important role in many fields such as the ore exploitation, cement production, refractory matter, bauxite clinker, emery, glass, artificial construction sand, stones and other metallurgy slurry.
Henan Fote, as the leading sand making plant in China, has successfully designed and made the basalt sand maker which is a high efficient rough sand maker. Fote holds the concept of being the satisfying partner with its excellent product quality, complete product types and outstanding after-sale service and shows the world our self-dependent innovation results and the faith and strength to march to the world.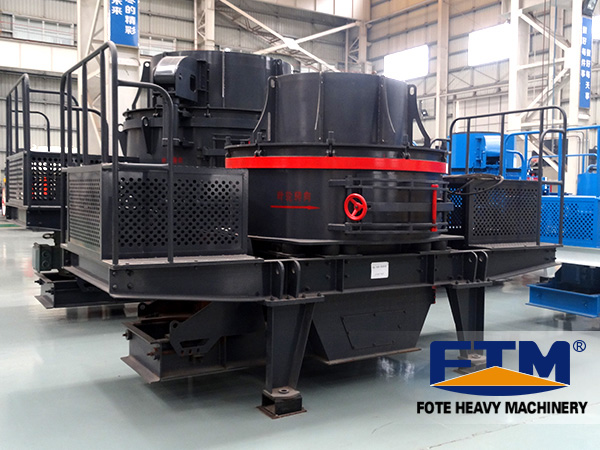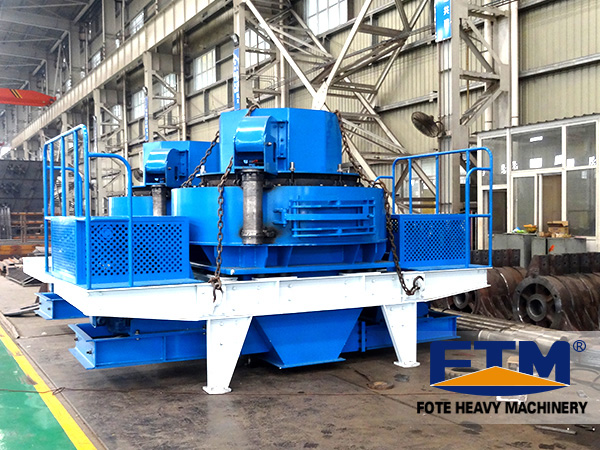 Technical Parameters
Model
specification
Max.feeding
size
(mm)
Power
(kw)
Rotation
speed of
impeller
(r/min)
Capacity
(t/h)
Overall
dimension
(L×W×H)
(mm)
Total
weight
(kg)
FTM-06
35
37-55
2000-3000
12-30
2500×1620×2600
5600
FTM-07
45
55-75
1500-2500
25-55
2700×1760×2800
7600
FTM-09
50
110-150
1200-2000
55-100
3900×2000×3070
12600
FTM-10
60
150-180
1000-1700
100-160
4600×2350×3450
17300
Model
FTMVSI-7611
FTMVSI-8518
FTMVSI-9526
FTMVSI-1140
Capacity
(t/h)
Feed both
at center
and sides
120-180
200-260
300-380
450-520
Feed at
center
60-90
100-130
150-190
225-260
Max.feeding
size(mm)
Soft
material
35
40
45
50
Hard
material
30
35
40
45
Rotation
speed
(r/min)
1700-1890
1520-1690
1360-1510
1180-1310
Double Motor
power(kw)
110
180
264
400
Overall dimension
(L×W×H)(mm)
3700×2150×2100
4140×2280×2425
4560×2447×2778
5000×2700×3300
Total weight(t)
11.8
14.5
17.8
25.6
Power supply
380V 50HZ
Vibrating sensor
Detect range 0.1-20mm/s continous and adjustable.
Lubrication
station
Double
motor
power of
oil pump
2×0.31Kw
Safety
assuance
Double oil pumps assure enough oil supply:automatic
switch off with no oil stream or pressure,water cooling
in summer,motor heating stare-up in winter.
Overall
dimension
(L×W×H)
(mm)
820×520×1270
Power of oil
tank heater
2KW
Send Message
Please enter your demand such as Raw material type, Capacity, Feeding material size, Final product size, etc. To become our quality clients will have access to a discount of countract!
Add:High and New Industrial Zone, Kexue Revenue, High and New Technology Industrial Development Zone, Zhengzhou, China