Introduction of Cement Clinker Grinding Station:
Cement clinker grinding station is the last stage in the cement production line. At this stage, the cement clinker is added to an appropriate amount of mixed materials for grinding to produce finished cement. Cement production generally can be divided into three processes: raw materials preparation, clinker calcination, and cement clinker production. The production process of Portland cement is representative of cement production. It uses limestone and clay as the main materials, which are crushed, batched, and grinding into raw materials, and then fed into cement kilns to calcinate mature materials, finally adding proper amount of mixed material to cement clinker, and grind it to produce cement. The mixed materials generally include gypsum, fly ash, slag powder, etc.
Process introduce: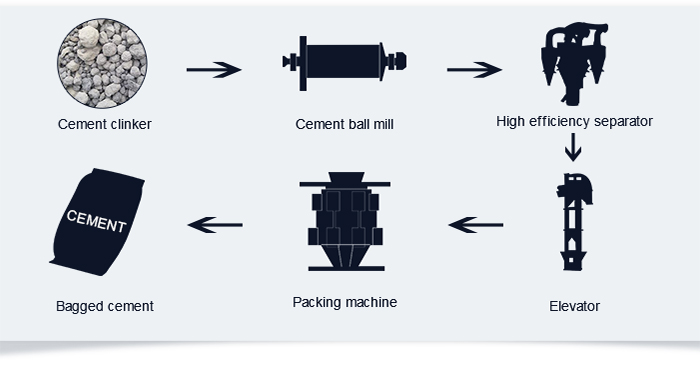 The whole system of cement grinding station mainly includes cement grinding, cement homogenization and batching, cement packaging and bulk loading. And the system is composed of cement mill, high-efficiency separator, elevator, packing machine and so on. In order to meet the customers' requirements on different granularity of auxiliary materials, it can be equipped with Jaw crusher for optimal combination and classification.
Flow Chart of Ball Mill for Cement Clinker Grinding: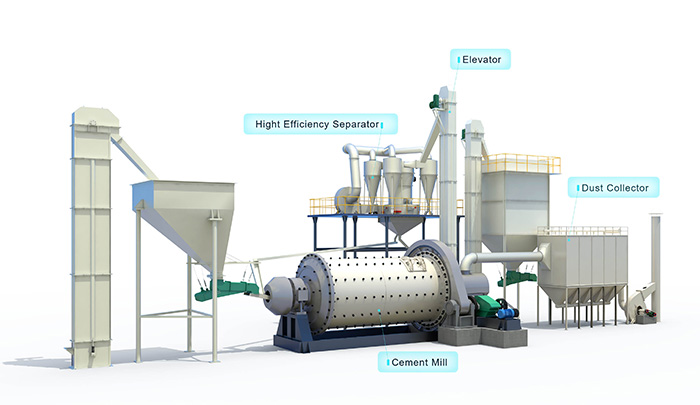 FTM cement mill is widely used in the grinding of raw cement, slag, cement clinker, raw coal and other raw materials. FTM cement mill comes with high powder-selecting efficiency and convenient adjustment of fineness. It has advantages of high grinding efficiency, saving 20~30% power consumption compared with the ball mill, strong drying capacity, multifunction, such as crushing, drying, grinding, separating, and conveying, low noises, little dust, low wear rate, and little metallic pollution.
1-10t/h--Cement Clinker Grinding station :
1.Grinding Mill: cement ball mill.
2. Feeding Machines: Impeller Feeding machine , Magnetic Vibrating Feeding Machine ect.
3.Conveying Equipments: Bucket Elevator
4.Crushers: Jaw Crusher, Hammer Crusher, Impact Crusher, ect .
5.Dust Collectors / Dust Filters: DMC pulse bag dsut collector, Air box type pulse bag dusct collector ect .
6.High effecient powder separator
7.Packing Machines: Automatic dry powder packing machine,ect .