The center structure of the drum drying equipment can avoid the addition of the scattering device. Wet materials in the drum dryer are lifted and thrown down by the shoveling plate installed on the wall of the drum. During the falling process, they are crushed by the scattered device to fine particles. The touching area expands to meet more hot air, thus realizing complete drying effect.
The drum dryer, also called drum drying machine, is a ordinary machine that is widely used in the mining industry because of the high efficiency and simple operation. Drum dryer is applied to dry metal, non-metal, magnetic ore, gravity ore, floating ore, clay and coal slime, etc.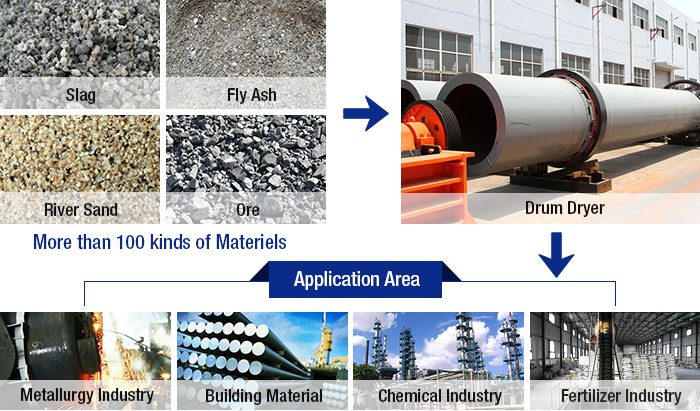 Features of Drum Dryer
Drum dryer has simple structure and is favored by the customers not only in industrial production but also in daily life. Different drum dryers with different sizes have different productivity and Fote Machinery can customize the product according to your needs. Drum dryer is one high efficient drying machine with multi-usage. In addition, cylinder dryer has the typical advantages like wide range application, energy saving, environment benefit and other advantages.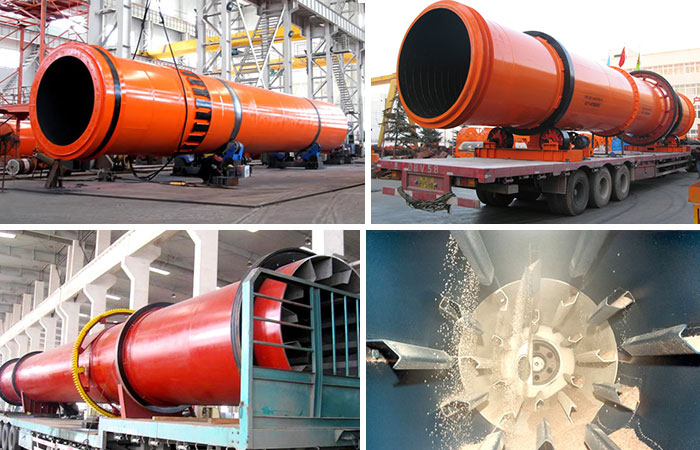 Technical Parameters
Spec./m
(Dia.×Length)

Shell Cubage
(m³)

Capacity
(t/h)

Installation
Obliquity
(%)

Highest Inlet
Air Temperature
(℃)

Main Motor
(kw)

Weight
(t)

Φ1.2×8.0

9.0

1.9~2.4

3~5

700~800

7.5

9

Φ1.2×10

11.3

2.4~3.0

3~5

700~800

7.5

11

Φ1.5×12

21.2

4.5~5.7

3~5

700~800

15

18.5

Φ1.5×14

24.7

5.3~6.6

3~5

700~800

15

19.7

Φ1.5×15

26.5

5.7~7.1

3~5

700~800

15

20.5

Φ1.8×12

30.5

6.5~8.1

3~5

700~800

18.5

21.5

Φ1.8×14

35.6

7.6~9.5

3~5

700~800

18.5

23

Φ2.2×12

45.6

9.7~12.2

3~5

700~800

22

33.5

Φ2.2×14

53.2

11.4~14.2

3~5

700~800

22

36

Φ2.2×16

60.8

13.0~16.2

3~5

700~800

22

38

Φ2.4×14

63.3

13.5~16.9

3~5


700~800

37

45

Φ2.4×18

81.4

17.4~21.7

3~5

700~800

37

49

Φ2.4×20

90.4

19.3~24.1

3~5

700~800

45

54

Φ2.4×22

99.5

21.2~26.5

3~5

700~800

45

58

Φ2.6×24

127.4

27.2~34.0

3~5

700~800

55

73

Φ3.0×20

141.3

30.1~37.7

3~5

700~800

75

85

Φ3.0×25

176.6

37.7~47.1

3~5

700~800

75

95

Φ3.2×25

201

42.9~53.6

3~5

700~800

90

110

Φ3.6×28

285

60.8~76.0

3~5

700~800

160

135
Technical parameters of indirect heat dryer:
Shell
diameter
×shell
Length
Items
Inside
diameter
of outer
shell
(mm)
Inside
diameter
of inner
shell
(mm)
Shell
Length
(m)
Shell
cubage
(m³)
Shell
obliquity
Lifting
blade
form
Highest
inlet air
temperature
(℃)
Dimensions
(m)
Φ1.5×15m
1500
500
15
20.27
3-5%
Lifting form
850
16.2×2.7×2.7
Φ1.5×17m
17
22.97
18.2×2.7×2.7
Φ1.5×19m
19
25.68
20.0×2.9×2.9
Φ1.8×21m
1800
650
21
35.91
3-5%
Lifting form
850
22.5×2.7×2.7
Φ1.8×23m
23
39.33
24.5×2.9×2.9
Φ1.8×25m
25
42.75
26.5×2.9×2.9
Φ2.2×21m
2200
800
21
58.10
3-5%
Lifting form
850
----
Φ2.2×23m
23
63.61
Φ2.2×25m
25
69.15