General Introduction:
Sawdust dryer is also called wood shavings dryer or woodchip dryer. Sawdust drying machine is widely used in straw fuel, mechanical, wood pellets, sawdust briquette charcoal, agricultural engineering and other industries to conduct stalk drying, drying of soybean straw and cotton stalk drying, drying of wheat straw and sorghum stalk drying, drying sawdust, wood shavings, gingko leaf drying, and drying of agricultural cellulosic materials.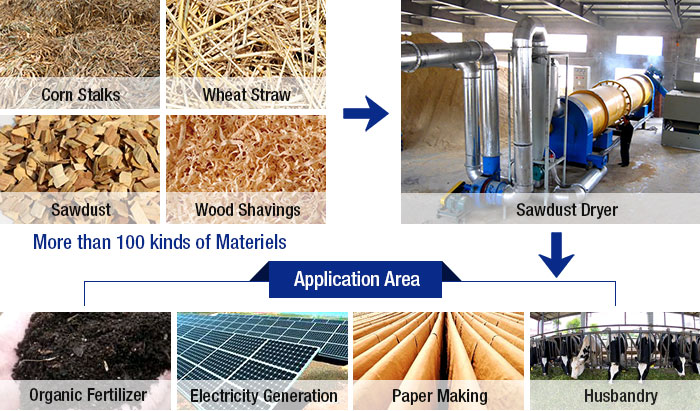 Drying Tactics:
1. Before the start of sawdust dryer, check the connection of the power and if the rotating cylinder is in the right position. Connect the power supply and open the upper cover and run the rotating cylinder with no load. The rotating direction should in accordance with the direction label. It there is still no hot blast after 5-minute working, stop the machine and check if the air discharge mouth is blocked.
2. The cover should be put down when the machine is working. Machine should shut down when install and unload the work pieces. Pay attention that the work pieces should distribute in the cylinder uniformly otherwise the dehydrator will shake violently.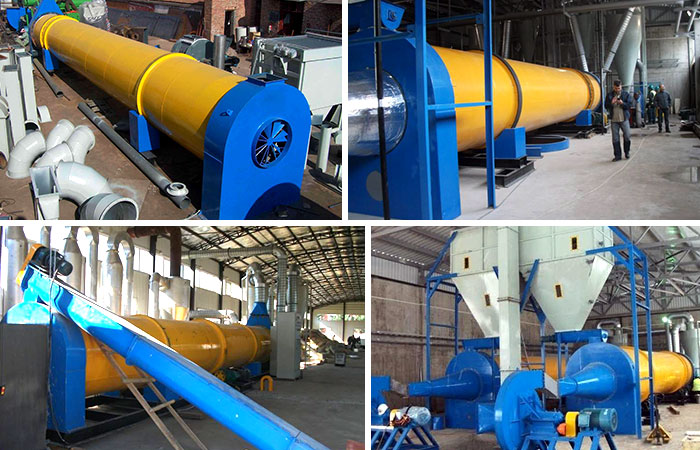 3. To stop the rotating cylinder, first shut down the motor. Then stamp on the brake pedal, but keep in mind that brake cannot be conducted until the motor is shut down.
Characteristics:
1. Sawdust dryer is designed scientifically. The materials conduct the heat exchange in the form of radiation, convection, and conduction.
2. High drying efficiency. After testing, the thermal efficiency is much higher than traditional dryers 50% around. Besides, it has great energy saving effect.
3. The wood shavings dryer or woodchip dryer uses the material and the hot air flow drying process and has wide application range. It is able to adapt to dry clay, coal, slag, iron and other raw materials. Compact and reasonable structure, and easy maintenance.
Fote Machinery is a well known sawdust dryer manufacturer. The woodchip dryer price is quite low with high quality. The products made in Fote are favored by the customers all over the world. To know more information about the equipment, send us an e-mail or leave us a message. We will get contact with you as soon as possible.